If you live in Remuera or close by and you are seeking an activity for your family, then Remuera TKD is a martial arts club for you.
We are a strongly family oriented school – most of our members are families.
Families training together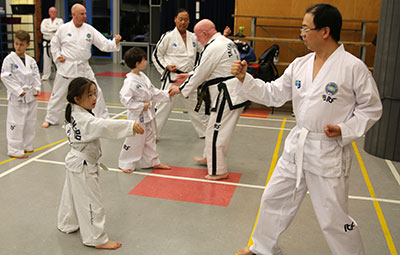 It is very common for the kids to start training first… a parent brings their six or seven year old along to Taekwon-Do, and sits down the back while their child trains. After a while, they decide to give it a go, and a few years later, the whole family is involved.
This is how Mr Peter Graham got started in Taekwon-Do back in the 1970s!
It is great to find a physical activity that the family can do together. Each can progress at his or her own pace, or sometimes parents decide to progress a the rate of the children so the family remains together on the same grade.
One of the great things about International Taekwon-Do is the ability to make these decisions – so long as you achieve your goals in Taekwon-Do and enjoy your training, we are happy.
Come Along!
If you are a family living in Remuera or neighbouring areas, and want a great activity for your kids or your family, try Remuera Taekwon-Do.